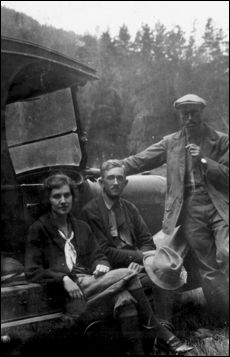 We love planning trips and taking to the road: touring, searching for roadside attractions, meeting people, exploring places from our family history and researching the genealogy of our family. It's best when they can be combined.
Most trips have been wonderful experiences and a few could have used more planning. Sometimes, luck decided our day. No matter the occasional surprise, we love travel.
Our interests and experiences have led us to build this website as a Gazetteer (an encyclopedia of communities and places ‑ and whatever else catches our fancy).
We see our website as a tool that helps us to plan our travel and pursue our family history. Our interests have grown and we find ourselves collecting ever more information about the communities of America and Canada. We want to share this information and we hope it will be of use to you.
Just a note about our Gazetteer, we use the term 'Community' loosely. Where you might expect that we would include only Cities, Towns and Villages in our Gazetteer, we have a broader interest that includes named places where groups of people might have gathered for extended periods of time.
These communities include Mining and Lumber Camps, Landings, Seasonal Fishing Villages, Railway Stations, Rural Post Offices, Stage Coach Stations and Ferry Crossings. We also include places like named localities where loose communities of people came together ‑ an example might be a place like a Hollow or a Crossroad.
We want to warn you that there are community names in our Gazetteer which are racist, offensive or derogatory. We retain those names because they are part of the historical record and represent what was an actual physical community.
Don't jump to conclusions. Language and attitudes change over time and from one community to the next - what appears as an offensive name may have a different meaning within such a named community.
Changing or deleting names of the past can change how we perceive history. While there are arguments both way, we've chosen to keep offensive names when they belonged to a community. Keep in mind that every community has its backstory and its name usually reflects that story - there may be more to its name than the obvious.
Building on our framework, we will continue to add more detailed information. It's a big task, it's going to take years and although we're trying to be as careful as we can, there will be mistakes. If you have any suggestions, recommendations or corrections, please don't hesitate to contact us.
We hope that our interests, experiences and thoughts will be of use to you.
Community Indexes
United States
Canada
Cemetery Indexes
United States
Canada
Side Projects
We have a couple of side-projects that might be of interest: