Commemorative Quarter
for Kansas (KS)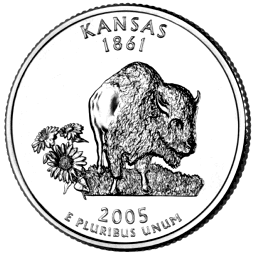 Coin Issued: August 29, 2005 - the 4th coin released in 2005
Statehood: January 29, 1861 - the 34th State
Inscription: "Kansas 1861"
Description: An American Bison is featured, with Sunflowers to the lower left.
The American Bison is the State Animal of Kansas.
The Sunflower is the State Flower of Kansas.
At the bottom of the coin is the issue date (2005) and the motto "E Pluribus Unum". The motto is Latin for "Out of Many, One", recognizing that out of the many colonies (or states) emerged a single nation.
Engravers: The Reverse design (the tail or State-side of the Quarter) was created by Norman Nemeth (search the coin for the engraver's initials: 'nen').
The original Observe design (the front or Washington-side of the Quarter) was created by John Flanagan and first appeared in 1932. For the 50 State Quarters series, Flanagan's design was modified by William Cousins: the portrait of Washington was slightly reduced to accomodate the moving of the legends from the Reverse to the Obverse.
Reverse Inscriptions for the Kansas Quarter:
Kansas
1861
2005
E. Pluribus Unum
Obverse Inscriptions:
United States of America
Liberty
In God We Trust
Quarter Dollar
Coin Specifications:
| | |
| --- | --- |
| Weight: |   0.182 troy ounce [5.670 g] |
| Diameter: |   0.955 in [24.26 mm] |
| Thickness: |   0.069 in [1.75 mm] |
| Edge: |   Reeded with 119 reeds. |
| Composition: |   Cupro-Nickel Clad (91.67% Copper, 8.33% Nickel) |
Number of Kansas Quarters Minted:
Denver (D):
  300,000,000
Philadelphia (P):
  263,400,000
 
Total:
  563,400,000
America-the-Beautiful Quarter Series
The quarter for the Tallgrass Prairie National Preserve (located southwest of Strong City, KS) will be issued in 2020, the last coin issued in 2020 and the 55th coin (of 56) in the America-the-Beautiful Quarter series.
The following quarters will be issued in 2020: National Park of America Samoa (American Samoa), Weir Farm National Historic Site (Connecticut), Salt River Bay National Historical Park and Ecological Preserve (U.S. Virgin Islands), Marsh-Billings-Rockefeller National Historical Park (Vermont) & Tallgrass Prairie National Preserve (Kansas).
Other Roadside Stops ...
Commemorative Quarters by State
Commemorative Quarters by Year of Issue
Find a Community within Kansas
Off-the-Road Links ...