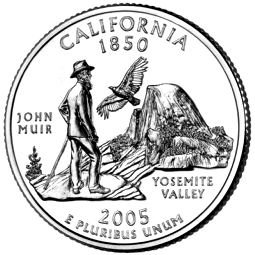 Coin Issued: January 31, 2005 - the 1st coin released in 2005
Statehood: September 9, 1850 - the 31st State
Inscriptions: "California 1850", "Yosemite Valley"
Description: The Naturalist John Muir overlooking Yosemite Valley and Half Dome, with a California Condor in flight. Below Half Dome is the inscription "Yosemite Valley". To the left of John Muir is the inscription "John Muir".
In 1868, John Muir made his home in Yosemite Valley. He devoted his life to conservation, publishing 10 books and over 300 articles on Naturalism and Conservation. In the early 1890's, John Muir helped to form the Sierra Club. He served as the Sierra Club's President until his death in 1914.
To protect Yosemite, Congress established Yosemite National Park in 1890.
As the result of a successful breeding program, the nearly extinct California Condor has been re-introduced to rural central California. To help protect against catastrophic loss, a colony of Condors has been established at the South Rim of the Grand Canyon (in northwest Arizona).
At the bottom of the coin is the issue date (2005) and the motto "E Pluribus Unum". The motto is Latin for "Out of Many, One", recognizing that out of the many colonies (or states) emerged a single nation.
Engravers: The Reverse design (the tail or State-side of the Quarter) was created by Don Everhart (search the coin for the engraver's initials: 'de').
The original Observe design (the front or Washington-side of the Quarter) was created by John Flanagan and first appeared in 1932. For the 50 State Quarters series, Flanagan's design was modified by William Cousins: the portrait of Washington was slightly reduced to accomodate the moving of the legends from the Reverse to the Obverse.
Reverse Inscriptions for the California Quarter:
California
John Muir
Yosemite Valley
1850
2005
E. Pluribus Unum
Obverse Inscriptions:
United States of America
Liberty
In God We Trust
Quarter Dollar
Coin Specifications:
| | |
| --- | --- |
| Weight: |   0.182 troy ounce [5.670 g] |
| Diameter: |   0.955 in [24.26 mm] |
| Thickness: |   0.069 in [1.75 mm] |
| Edge: |   Reeded with 119 reeds. |
| Composition: |   Cupro-Nickel Clad (91.67% Copper, 8.33% Nickel) |
Number of California Quarters Minted:
Denver (D):
  263,200,000
Philadelphia (P):
  257,200,000
 
Total:
  520,400,000
America-the-Beautiful Quarter Series
The quarter for Yosemite National Park (located in central California) was issued in 2010 and the third coin (of 56) in the America-the-Beautiful Quarter series.
The following quarters were issued in 2010: Hot Springs National Park (Arkansas), Yellowstone National Park (Wyoming), Yosemite National Park (California), Grand Canyon National Park (Arizona) & the Mount Hood National Forest (Oregon).
Other Roadside Stops ...
Commemorative Quarters by State
Commemorative Quarters by Year of Issue
Find a Community within California
Off-the-Road Links ...