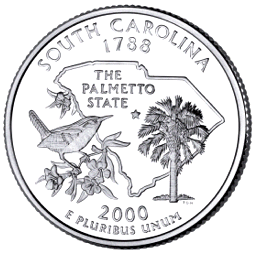 Coin Issued: May 22, 2000 - the 3rd coin released in 2000
Statehood: May 23, 1788 - the 8th State
Inscriptions: "South Carolina 1788", "The Palmetto State"
Description: The coin features a Carolina Wren perched on Yellow Jessamine and a Palmetto Tree to the right, with the South Carolina outline in the background. The star at the center of the outline indicates the location of Columbia, the state capital.
The Yellow Jessamine is the State Flower of South Carolina.
The South Carolina State Bird is the Carolina Wren.
The South Carolina State Tree is the Palmetto. The Palmetto is symbolic of the defeat of the British fleet by the Sullivan's Island Fort (now known as Fort Moultrie), which was built of Palmetto logs.
At the bottom of the coin is the issue date (2000) and the motto "E Pluribus Unum". The motto is Latin for "Out of Many, One", recognizing that out of the many colonies (or states) emerged a single nation.
Engravers: The Reverse design (the tail or State-side of the Quarter) was created by Thomas D. Rodgers.
The original Observe design (the front or Washington-side of the Quarter) was created by John Flanagan and first appeared in 1932. For the 50 State Quarters series, Flanagan's design was modified by William Cousins: the portrait of Washington was slightly reduced to accomodate the moving of the legends from the Reverse to the Obverse.
Reverse Inscriptions for the South Carolina Quarter:
South Carolina
1788
2000
E. Pluribus Unum
Obverse Inscriptions:
United States of America
Liberty
In God We Trust
Quarter Dollar
Coin Specifications:
| | |
| --- | --- |
| Weight: |   0.182 troy ounce [5.670 g] |
| Diameter: |   0.955 in [24.26 mm] |
| Thickness: |   0.069 in [1.75 mm] |
| Edge: |   Reeded with 119 reeds. |
| Composition: |   Cupro-Nickel Clad (91.67% Copper, 8.33% Nickel) |
Number of South Carolina Quarters Minted:
Denver (D):
  566,208,000
Philadelphia (P):
  742,576,000
 
Total:
  1,308,784,000
America-the-Beautiful Quarter Series
The quarter for the Fort Moultrie/Fort Sumter National Monuments (located at Charleston, SC) was issued in 2016, the last coin issued in 2016 and the 35th coin (of 56) in the America-the-Beautiful Quarter series.
The following quarters were issued in 2016: Shawnee National Forest (Illinois), Cumberland Gap National Historical Park (Kentucky), Harpers Ferry National Historical Park (West Virginia), Theodore Roosevelt National Park (North Dakota) & Fort Moultrie/Fort Sumter National Monuments (South Carolina).
Other Roadside Stops ...
Commemorative Quarters by State
Commemorative Quarters by Year of Issue
Find a Community within South Carolina
Off-the-Road Links ...