Commemorative Quarter
for Massachusetts (MA)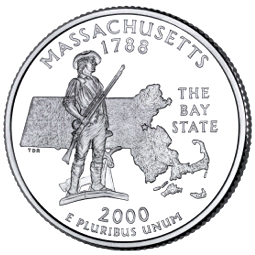 Coin Issued: January 3, 2000 - the 1st coin released in 2000
Statehood: February 6, 1788 - the 6th State
Inscriptions: "Massachusetts 1788", "The Bay State"
Description: The coin features the Concord Minuteman Statue, with Massachusetts's state outline in the background. The Minuteman Statue shows a farmer wearing a hat and holding a musket. Below the state outline and behind the farmer is a plow.
The Minuteman Statue that is pictured on the Commemorative Quarter is located in Concord (at the North Bridge). The Statue was sculpted by Daniel Chester French and was completed in 1874.
At the bottom of the coin is the issue date (2000) and the motto "E Pluribus Unum". The motto is Latin for "Out of Many, One", recognizing that out of the many colonies (or states) emerged a single nation.
Engravers: The Reverse design (the tail or State-side of the Quarter) was created by Thomas D. Rodgers.
The original Observe design (the front or Washington-side of the Quarter) was created by John Flanagan and first appeared in 1932. For the 50 State Quarters series, Flanagan's design was modified by William Cousins: the portrait of Washington was slightly reduced to accomodate the moving of the legends from the Reverse to the Obverse.
Reverse Inscriptions for the Massachusetts Quarter:
Massachusetts
The Bay State
1788
1999
E. Pluribus Unum
Obverse Inscriptions:
United States of America
Liberty
In God We Trust
Quarter Dollar
Coin Specifications:
| | |
| --- | --- |
| Weight: |   0.182 troy ounce [5.670 g] |
| Diameter: |   0.955 in [24.26 mm] |
| Thickness: |   0.069 in [1.75 mm] |
| Edge: |   Reeded with 119 reeds. |
| Composition: |   Cupro-Nickel Clad (91.67% Copper, 8.33% Nickel) |
Number of Massachusetts Quarters Minted:
Denver (D):
  535,184,000
Philadelphia (P):
  628,600,000
 
Total:
  1,163,784,000
America-the-Beautiful Quarter Series
The quarter for the Lowell National Historical Park (located in Lowell, MA) will be issued in 2019, the first coin issued in 2019 and the 46th coin (of 56) in the America-the-Beautiful Quarter series.
The following quarters will be issued in 2019: Lowell National Historical Park (Massachusetts), American Memorial Park (Northern Mariana Islands), War in the Pacific National Historic Park (Guam), San Antonio Missions National Historic Park (Texas) & Frank Church River of No Return Wilderness (Idaho).
Other Roadside Stops ...
Commemorative Quarters by State
Commemorative Quarters by Year of Issue
Find a Community within Massachusetts
Off-the-Road Links ...