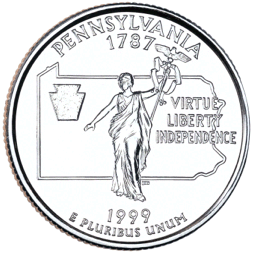 Coin Issued: March 8, 1999 - the 2nd coin released in 1999
Statehood: December 12, 1787 - the 2nd State
Inscriptions: "Pennsylvania 1787", "Virtue, Liberty, Independence"
Description: The coin features the statue "Commonwealth", with the outline of Pennsylvania in the background. A keystone is located in the upper left corner. To the right is the State Motto: "Virtue, Liberty, Independence".
Since 1905, the statue "Commonwealth" has been located on top of the capital dome (in Harrisburg). The left hand holds a staff representing justice.
At the bottom of the coin is the issue date (1999) and the motto "E Pluribus Unum". The motto is Latin for "Out of Many, One", recognizing that out of the many colonies (or states) emerged a single nation.
Engravers: The Reverse design (the tail or State-side of the Quarter) was created by John Mercanti (search the coin for the engraver's initials: 'jm').
The original Observe design (the front or Washington-side of the Quarter) was created by John Flanagan and first appeared in 1932. For the 50 State Quarters series, Flanagan's design was modified by William Cousins: the portrait of Washington was slightly reduced to accomodate the moving of the legends from the Reverse to the Obverse.
Reverse Inscriptions for the Pennsylvania Quarter:
Pennsylvania
1787
1999
E. Pluribus Unum
Obverse Inscriptions:
United States of America
Liberty
In God We Trust
Quarter Dollar
Coin Specifications:
| | |
| --- | --- |
| Weight: |   0.182 troy ounce [5.670 g] |
| Diameter: |   0.955 in [24.26 mm] |
| Thickness: |   0.069 in [1.75 mm] |
| Edge: |   Reeded with 119 reeds. |
| Composition: |   Cupro-Nickel Clad (91.67% Copper, 8.33% Nickel) |
Number of Pennsylvania Quarters Minted:
Denver (D):
  358,332,000
Philadelphia (P):
  349,000,000
 
Total:
  707,332,000
America-the-Beautiful Quarter Series
The quarter for the Gettysburg National Military Park (located in south-central Pennsylvania) were issued in 2011, the second coin issued in 2011 and the 6th coin (of 56) in the America-the-Beautiful Quarter series.
The following quarters were issued in 2011: Gettysburg National Military Park (Pennsylvania), Glacier National Park (Montana), Olympic National Park (Washington), Vicksburg National Military Park (Mississippi) & Chickasaw National Recreation Area (Oklahoma).
Other Roadside Stops ...
Commemorative Quarters by State
Commemorative Quarters by Year of Issue
Find a Community within Pennsylvania
Off-the-Road Links ...