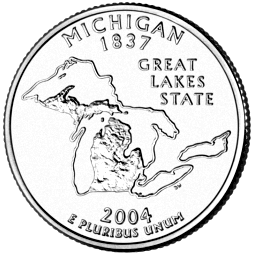 Coin Issued: January 26, 2004 - the 1st coin released in 2004
Statehood: January 26, 1837 - the 26th State
Inscriptions: "Michigan 1837", "Great Lakes State"
Description: The coin features the outlines of the Great Lakes and both the Lower and Upper Peninsulas of Michigan. To the upper left is the inscription "Great Lakes State".
Above the Upper Peninsula (which extends eastward from Wisconsin) is Lake Superior.
To the left of the Lower Peninsula (shaped like a hand in a snow mitten) is Lake Michigan.
To the upper right of the Lower Peninsula is Lake Huron.
Lake Erie is to the lower right of the Lower Peninsula.
Near the right edge of the coin and to the right and above Lake Erie is Lake Ontario.
North of the Great Lakes is the Canadian province of Ontario.
At the bottom of the coin is the issue date (2004) and the motto "E Pluribus Unum". The motto is Latin for "Out of Many, One", recognizing that out of the many colonies (or states) emerged a single nation.
Engravers: The Reverse design (the tail or State-side of the Quarter) was created by Donna Weaver (search the coin for the engraver's initials: 'dw').
The original Observe design (the front or Washington-side of the Quarter) was created by John Flanagan and first appeared in 1932. For the 50 State Quarters series, Flanagan's design was modified by William Cousins: the portrait of Washington was slightly reduced to accomodate the moving of the legends from the Reverse to the Obverse.
Reverse Inscriptions for the Michigan Quarter:
Michigan
Great Lakes State
1837
2004
E. Pluribus Unum
Obverse Inscriptions:
United States of America
Liberty
In God We Trust
Quarter Dollar
Coin Specifications:
| | |
| --- | --- |
| Weight: |   0.182 troy ounce [5.670 g] |
| Diameter: |   0.955 in [24.26 mm] |
| Thickness: |   0.069 in [1.75 mm] |
| Edge: |   Reeded with 119 reeds. |
| Composition: |   Cupro-Nickel Clad (91.67% Copper, 8.33% Nickel) |
Number of Michigan Quarters Minted:
Denver (D):
  225,800,000
Philadelphia (P):
  233,800,000
 
Total:
  459,600,000
America-the-Beautiful Quarter Series
The quarter for the Pictured Rocks National Lakeshore (located east of munising-xx-alger, MI) will be issued in 2018, the first coin issued in 2018 and the 41st coin (of 56) in the America-the-Beautiful Quarter series.
The following quarters will be issued in 2018: Pictured Rocks National Lakeshore (Michigan), Apostle Islands National Lakeshore (Wisconsin), Voyageurs National Park (Minnesota), Cumberland Island National Seashore (Georgia) & Block Island National Wildlife Refuge (Rhode Island).
Other Roadside Stops ...
Commemorative Quarters by State
Commemorative Quarters by Year of Issue
Find a Community within Michigan
Off-the-Road Links ...