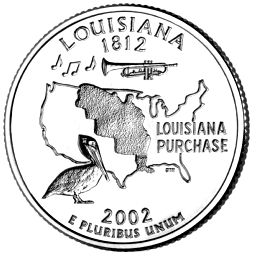 Coin Issued: May 20, 2002 - the 3rd coin released in 2002
Statehood: April 30, 1812 - the 18th State
Inscriptions: "Louisiana 1812", "Louisiana Purchase"
Description: The coin features a map of the United States with the outline of the Louisiana Purchase. A trumpet with notes of music lies above the map. A Brown Pelican is located below and to the left of the map.
The Louisiana Purchase nearly doubled the size of the country in 1803. The price? Just 4 cents per acre.
The Brown Pelican is the State Bird of Louisiana.
The use of pesticides in the early 1960's caused the Brown Pelican to stop nesting and by the mid-60's it had virtually disappeared. The Federal Government declared the Brown Pelican an endangered species in 1970. As a result of efforts to protect the Pelican's habit and a breeding program using fledglings from Florida, the Brown Pelican has made significant progress toward recovery. The Brown Pelican was removed from the Endangered Species List in November 2009.
At the bottom of the coin is the issue date (2002) and the motto "E Pluribus Unum". The motto is Latin for "Out of Many, One", recognizing that out of the many colonies (or states) emerged a single nation.
Engravers: The Reverse design (the tail or State-side of the Quarter) was created by John Mercanti (search the coin for the engraver's initials: 'jm').
The original Observe design (the front or Washington-side of the Quarter) was created by John Flanagan and first appeared in 1932. For the 50 State Quarters series, Flanagan's design was modified by William Cousins: the portrait of Washington was slightly reduced to accomodate the moving of the legends from the Reverse to the Obverse.
Reverse Inscriptions for the Louisiana Quarter:
Louisiana
Louisiana Purchase
1812
2002
E. Pluribus Unum
Obverse Inscriptions:
United States of America
Liberty
In God We Trust
Quarter Dollar
Coin Specifications:
| | |
| --- | --- |
| Weight: |   0.182 troy ounce [5.670 g] |
| Diameter: |   0.955 in [24.26 mm] |
| Thickness: |   0.069 in [1.75 mm] |
| Edge: |   Reeded with 119 reeds. |
| Composition: |   Cupro-Nickel Clad (91.67% Copper, 8.33% Nickel) |
Number of Louisiana Quarters Minted:
Denver (D):
  402,204,000
Philadelphia (P):
  362,000,000
 
Total:
  764,204,000
America-the-Beautiful Quarter Series
The quarter for the Kisatchie National Forest (located west of Winnfield, LA) was issued in 2015, the second coin issued in 2015 and the 27th coin (of 56) in the America-the-Beautiful Quarter series.
The following quarters were issued in 2015: Homestead National Monument of America (Nebraska), Kisatchie National Forest (Louisiana), Blue Ridge Parkway (Virginia, North Carolina & Tennessee), Bombay Hook National Wildlife Refuge (Delaware) & Saratoga National Historical Park (New York).
Other Roadside Stops ...
Commemorative Quarters by State
Commemorative Quarters by Year of Issue
Find a Community within Louisiana
Off-the-Road Links ...