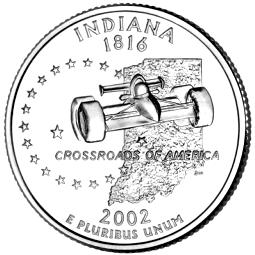 Coin Issued: August 2, 2002 - the 4th coin released in 2002
Statehood: December 11, 1816 - the 19th State
Inscriptions: "Indiana 1816", "Crossroads of America"
Description: With the Indianapolis 500 and the Indianapolis Motor Speedway in mind, the coin features an 'Indy'-style racecar with the outline of Indiana in the background. Below the car is Indiana's State Motto: "Crossroads of America".
The coin contains 19 stars to indicate that Indiana is the 19th state.
At the bottom of the coin is the issue date (2002) and the motto "E Pluribus Unum". The motto is Latin for "Out of Many, One", recognizing that out of the many colonies (or states) emerged a single nation.
In what appears to be a design error, the state outline has left out a portion of Lake County, which is in the far northwest corner of Indiana and that borders on Lake Michigan.
Engravers: The Reverse design (the tail or State-side of the Quarter) was created by Donna Weaver (search the coin for the engraver's initials: 'dw').
The original Observe design (the front or Washington-side of the Quarter) was created by John Flanagan and first appeared in 1932. For the 50 State Quarters series, Flanagan's design was modified by William Cousins: the portrait of Washington was slightly reduced to accomodate the moving of the legends from the Reverse to the Obverse.
Reverse Inscriptions for the Indiana Quarter:
Indiana
Crossroads of America
1816
2002
E. Pluribus Unum
Obverse Inscriptions:
United States of America
Liberty
In God We Trust
Quarter Dollar
Coin Specifications:
| | |
| --- | --- |
| Weight: |   0.182 troy ounce [5.670 g] |
| Diameter: |   0.955 in [24.26 mm] |
| Thickness: |   0.069 in [1.75 mm] |
| Edge: |   Reeded with 119 reeds. |
| Composition: |   Cupro-Nickel Clad (91.67% Copper, 8.33% Nickel) |
Number of Indiana Quarters Minted:
Denver (D):
  327,200,000
Philadelphia (P):
  362,600,000
 
Total:
  689,800,000
America-the-Beautiful Quarter Series
The quarter for the George Rogers Clark National Historical Park (located at Vincennes, IN) was issued in 2017, the last coin issued in 2017 and the 40th coin (of 56) in the America-the-Beautiful Quarter series.
The following quarters were issued in 2017: Effigy Mounds National Monument (Iowa), Frederick Douglass National Historic Site (District of Columbia), Ozark National Scenic Riverways (Missouri), Ellis Island National Monument and the Statue of Liberty (New Jersey & New York) & George Rogers Clark National Historical Park (Indiana).
Other Roadside Stops ...
Commemorative Quarters by State
Commemorative Quarters by Year of Issue
Find a Community within Indiana
Off-the-Road Links ...