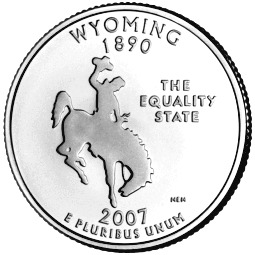 Coin Issued: September 3, 2007 - the 4th coin released in 2007
Statehood: July 10, 1890 - the 44th State
Inscriptions: Wyoming 1890", "The Equality State"
Description: To honor its Wild West heritage, the Wyoming coin contains the silhouette of a bucking horse with a rider waving his hat.
Wyoming is nicknamed the "Equality State". In 1869, its Territorial legislature was the first to extend equal suffrage (the right to vote).
Eliza Swain of Laramie claimed the honor of casting Wyoming's first female ballot in 1870.
When Wyoming became a State in 1890, it was the first State to permit women the right to vote, hold public office and serve on juries. When the US Congress opposed Wyoming's statehood due to its acceptance of women's suffrage, the officials of Wyoming announced that they would remain out of the Union for 100 years rather than join without women's suffrage.
At the bottom of the coin is the issue date (2007) and the motto "E Pluribus Unum". The motto is Latin for "Out of Many, One", recognizing that out of the many colonies (or states) emerged a single nation.
Engravers: The Reverse design (the tail or State-side of the Quarter) was created by Norm Nemeth (search the coin for the engraver's initials: 'nen').
The original Observe design (the front or Washington-side of the Quarter) was created by John Flanagan and first appeared in 1932. For the 50 State Quarters series, Flanagan's design was modified by William Cousins: the portrait of Washington was slightly reduced to accomodate the moving of the legends from the Reverse to the Obverse.
Reverse Inscriptions for the Wyoming Quarter:
Wyoming
The Equality State
1890
2007
E. Pluribus Unum
Obverse Inscriptions:
United States of America
Liberty
In God We Trust
Quarter Dollar
Coin Specifications:
| | |
| --- | --- |
| Weight: |   0.182 troy ounce [5.670 g] |
| Diameter: |   0.955 in [24.26 mm] |
| Thickness: |   0.069 in [1.75 mm] |
| Edge: |   Reeded with 119 reeds. |
| Composition: |   Cupro-Nickel Clad (91.67% Copper, 8.33% Nickel) |
Number of Wyoming Quarters Minted:
Denver (D):
  320,800,000
Philadelphia (P):
  243,600,000
 
Total:
  564,400,000
America-the-Beautiful Quarter Series
The quarter for Yellowstone National Park (located in northwest Wyoming) were issued in 2010, the second coin (of 56) in the America-the-Beautiful Quarter series.
The following quarters were issued in 2010: Hot Springs National Park (Arkansas), Yellowstone National Park (Wyoming), Yosemite National Park (California), Grand Canyon National Park (Arizona) & the Mount Hood National Forest (Oregon).
Other Roadside Stops ...
Commemorative Quarters by State
Commemorative Quarters by Year of Issue
Find a Community within Wyoming
Off-the-Road Links ...