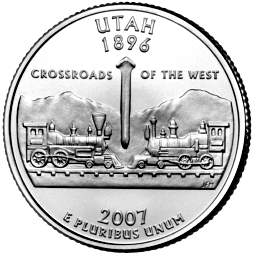 Coin Issued: November 5, 2007 - the 5th coin released in 2007
Statehood: January 4, 1896 - the 45th State
Inscriptions: "Utah 1896", "Crossroads of the West"
Description: The Utah coin contains two steam locomotives, with the Golden Spike between them and the Rocky Mountains in the background.
The Utah coin commemorates the joining of the tracks of the Union Pacific railroad (building from east-to-west) with those of the Central Pacific railroad (building from west-to-east). The tracks were joined at Promontory Summit, about 56 miles west of Ogden (Utah). With the driving of a Golden Spike, it became the first transcontinental railroad on May 10, 1869 (work began in 1863).
One end of the route was in Alameda (California) and the other end in Council Bluffs (Iowa), running through Omaha (Nebraska). From there the railroad continued further east by the network of existing railroads, allowing coast-to-coast train travel for the first time (taking about a week instead of months).
At the bottom of the coin is the issue date (2007) and the motto "E Pluribus Unum". The motto is Latin for "Out of Many, One", recognizing that out of the many colonies (or states) emerged a single nation.
Engravers: The Reverse design (the tail or State-side of the Quarter) was created by Joseph Menna (search the coin for the engraver's initials: 'jfm').
The original Observe design (the front or Washington-side of the Quarter) was created by John Flanagan and first appeared in 1932. For the 50 State Quarters series, Flanagan's design was modified by William Cousins: the portrait of Washington was slightly reduced to accomodate the moving of the legends from the Reverse to the Obverse.
Reverse Inscriptions for the Utah Quarter:
Utah
Crossroads of the West
1896
2007
E. Pluribus Unum
Obverse Inscriptions:
United States of America
Liberty
In God We Trust
Quarter Dollar
Coin Specifications:
| | |
| --- | --- |
| Weight: |   0.182 troy ounce [5.670 g] |
| Diameter: |   0.955 in [24.26 mm] |
| Thickness: |   0.069 in [1.75 mm] |
| Edge: |   Reeded with 119 reeds. |
| Composition: |   Cupro-Nickel Clad (91.67% Copper, 8.33% Nickel) |
Number of Utah Quarters Minted:
Denver (D):
  253,200,000
Philadelphia (P):
  255,000,000
 
Total:
  508,200,000
America-the-Beautiful Quarter Series
The quarter for the Arches National Park (located north of Moab, UT) was issued in 2014, the third coin issued in 2014 and the 23rd coin (of 56) in the America-the-Beautiful Quarter series.
The following quarters were issued in 2014: Great Smoky Mountains National Park (Tennessee), Shenandoah National Park (Virginia), Arches National Park (Utah), Great Sand Dunes National Park (Colorado) & Everglades National Park (Florida).
Other Roadside Stops ...
Commemorative Quarters by State
Commemorative Quarters by Year of Issue
Off-the-Road Links ...