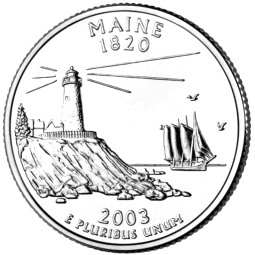 Coin Issued: June 2, 2003 - the 3rd coin released in 2003
Statehood: March 15, 1820 - the 23rd State
Inscription: "Maine 1820"
Description: The Pemaquid Point Lighthouse is featured, with the three masted schooner "Victory Chimes" to the right. The Lightkeeper's house is located just to the left of the lighthouse tower.
The Maine quarter is the first US currency to feature a lighthouse.
The Pemaquid Point Lighthouse (located at the town of Bristol) was constructed in 1827 and still stands (although the original building was replaced in 1835). The Lightkeeper's house is now a Fisherman's Museum.
The schooner "Victory Chimes" was built in 1900 and is the last three masted schooner of the Windjammer Fleet. The "Victory Chimes" is registered as a National Historic Landmark. She still sails the coast of Maine.
At the bottom of the coin is the issue date (2003) and the motto "E Pluribus Unum". The motto is Latin for "Out of Many, One", recognizing that out of the many colonies (or states) emerged a single nation.
Engravers: The Reverse design (the tail or State-side of the Quarter) was created by Donna Weaver (search the coin for the engraver's initials: 'dw').
The original Observe design (the front or Washington-side of the Quarter) was created by John Flanagan and first appeared in 1932. For the 50 State Quarters series, Flanagan's design was modified by William Cousins: the portrait of Washington was slightly reduced to accomodate the moving of the legends from the Reverse to the Obverse.
Reverse Inscriptions for the Maine Quarter:
Maine
1820
2003
E. Pluribus Unum
Obverse Inscriptions:
United States of America
Liberty
In God We Trust
Quarter Dollar
Coin Specifications:
| | |
| --- | --- |
| Weight: |   0.182 troy ounce [5.670 g] |
| Diameter: |   0.955 in [24.26 mm] |
| Thickness: |   0.069 in [1.75 mm] |
| Edge: |   Reeded with 119 reeds. |
| Composition: |   Cupro-Nickel Clad (91.67% Copper, 8.33% Nickel) |
Number of Maine Quarters Minted:
Denver (D):
  231,400,000
Philadelphia (P):
  217,400,000
 
Total:
  448,800,000
America-the-Beautiful Quarter Series
The quarter for the Acadia National Park (located near Bar Harbor, ME) was issued in 2012, the 3rd coin issued in 2012 and the 13th coin (of 56) in the America-the-Beautiful Quarter series.
The following quarters were issued in 2012: El Yunque National Forest (Puerto Rico), Chaco Culture National Historical Park (New Mexico), Acadia National Park (Maine), Hawai'i Volcanoes National Park (Hawaii) & Denali National Park (Alaska).
Other Roadside Stops ...
Commemorative Quarters by State
Commemorative Quarters by Year of Issue
Off-the-Road Links ...