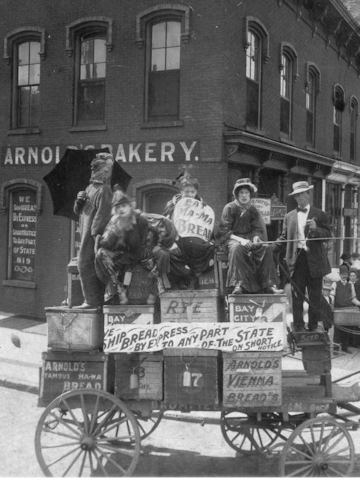 Arnold's Bakery, Fifth and Saginaw Streets
Bay City, Michigan
(The year and occassion unknown
- notice the costumes)
Although Alexander enjoyed the baked goods from Arnold Bakery, he was known for writing flattering poems about a business and then trying to sell it to them. In this case, I prefer to think that he was a happy customer and just wanted to share his exuberance.
You may talk about your bakery's
How quick they come and go,
And sometimes for a year or two,
They make a terrible blow.
But Arnold's Shop has stood the test
For more than forty years,
Whilest others started, fell behind
And quickly disappears.
But honesty, sincerity,
Obliging and good will,
For over half a century
Good goods the're baking still.
All through the days of summer
And sleet of winter snow,
His route is spreading far and wide
His rigs are on the go
He hasn't made a million
Or he would leave us long ago,
But he made an honest living
And always raised the dough
His father here before him
Has left behind some fame,
For when this town was nothing
Unto our shores he came,
And now his son succeeds him,
Thus his praises I must tell,
What's tasteful to our daily needs
He served the public well.
And at many a wedding party,
He caused the guest to smile,
His shop had made the bridal cake,
That always was in style.
This is neither song or parable
To be chanted o'er the dead,
But it's meant for those that' living,
That needs the best of bread.